The High Cliff Ultra is a trail race through the beautiful High Cliff State Park in Sherwood, WI. With two distances to select from 25k or 50k…there is a distance for every runner from newbie to veteran. This is one of the most unique ultras I have come across with a course that winds through rolling prairies, technical single track, stair climbs, wide horse trails, and great views of the Niagara Escarpment and shoreline of Lake Winnebago. I was thrilled when Mark Garrigan was willing to sit down for a few questions about nurun co. and the changes to High Cliff Ultra this year. 
Events – 25k & 50k
Date – August 5, 2017
Location – Sherwood, WI
Course – Trail
Established – 2016
Previous Year Participant Total – 157
Q:  When did you start running? 
I started running somewhere around 2002 or 2003. My friend would take me down University Ave. in Green Bay and we'd make our way to Baird Creek where I would watch him do 3 sledding hill repeats. Then we'd run back to his house. Pretty ironic that now I love going up and down those hills!

Q:  What does your day job look like when you are not running? 
Building nurun co. is my day and night job and I love every aspect of it. Daily duties include, event planning, web design and development, graphic design, marketing and promotion, product design, and customer support.
Q:  What was your first ultra?
My first ultra distance was 50 miles. It was the 2012 Fall 50 in Door County, Wisconsin.
Q:  What was the most unique experience you had running throughout the years?
That's a great question and I've thought about it a lot. I think my most unique experience happened just a couple weeks ago. My wife and I took our 2 week old daughter on the trails at Baird Creek. Granted she wasn't running and she probably didn't know where she was, but I got to share something I love with people I love so much and that is what nurun co. is all about.
Q:  Why has running become such a passion for such a wide range of people?
I think running can mean so many different things to so many people. It can be whatever a person needs it to be at that time. Running also brings together people from all walks of life. Despite their differences they quickly realize that they aren't the only crazy people out there.
Q:  What motivated you to start nurun co?
The most honest answer is actually going to sound like a cliché. I looked at my career and asked if this is what I wanted to do the rest of my life. The answer wasn't yes so I knew it was time to make a change. I had been thinking about creating nurun co. in some form or another for 3 years before it actually came to life. It never seemed like the right time until I realized there was never going to be a right time. Finally, with the amazing support from my wife, I took a huge leap and started nurun co.
**You can learn more about nurun co. at their website: nurun co.
Q:  What inspired you to put together the High Cliff Ultra?
My fellow runners of every race and group run I've ever run is all the motivation I needed. Watching people accomplish goals is an extremely rewarding way to spend a day. Combine that with the amazing trails at High Cliff State Park and it was a pretty easy decision to start organizing the race.
Q:  What do you feel is special about the High Cliff trails?
I think the variety of terrain that High Cliff offers is pretty special. The rocky technical single track will challenge even the most experienced trail runner. The wide open rolling prairies are really mentally challenging for a lot of people and I'm pretty sure everyone loves the stair climbs. Last, but not least, there are smooth runnable dirt trails through the forest and a short section over an old quarry. You also can't beat the incredible view you get from high above Lake Winnebago.
Q:  How long did it take to organize a race like this?
The idea started in the fall of 2014 and the unofficial planning started in the summer of 2015. Then in the winter of 2015 we started the actual planning and building. So, about 2 years start to start, so to speak.
Q:  Being a race director for the first time and looking at the runners from a different perspective, did you learn anything new about running?
I think it just reinforced what I had learned early on about this trail and ultra community. You meet some pretty amazing people out on the trails. Unfortunately, when you're running you only meet a handful. The great thing about being the race director is that I get to meet all of the runners!
Q:  What was the hardest thing about putting together a race?
I would have to say, for me, fighting the urge to make every single person happy. Don't take me wrong, we try really hard to make sure everyone has an enjoyable experience from registration to finish line, but the truth of the matter is that some things will come down to a matter of personal preference. My hope is that runners always feel like they can give us feedback and know that we are really listening and evaluating what they have to say.
Q:  What would you do differently as a race director in the High Cliff Ultra for next year (2017)?
This year we were able to open registration a little earlier than last year. In 2016 we weren't ready to open registration until mid April. We wanted to try and open it in the beginning of the year for 2017. We're also always looking for better ways to mark a course so there may be some slight changes to course markings. I can always do a much better job of delegating tasks too. The volunteers are so amazing and I know I can do a better job of utilizing their talents!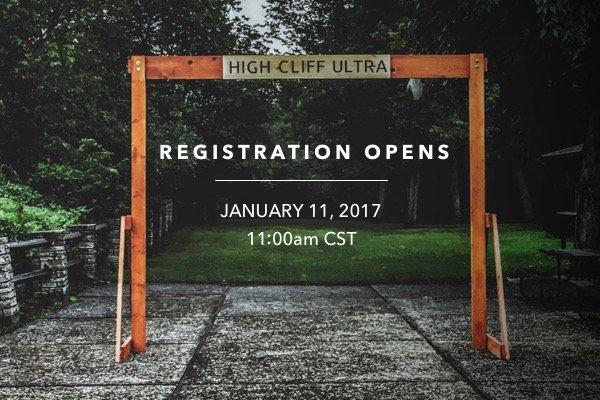 Registration is OPEN, but spots are limited…don't wait to sign up for this awesome race! I had a blast running the 50k in 2016 and will be back again in 2017 to give the 25k and volunteer. The course is gorgeous, the runners & volunteers amazing, and the post race party incredible!!!
#BeKind #BeHappy #BeActive
Photo Credits: nurun co.